Cricket is a wildly popular and loved sport in this country. Cricket stadiums are always packed with spectators and eyes are glued to the tv screen when watching the match unfold with bated eyes. Cricket is a great source of entertainment but it can also be a way of earning money on the side. Betting on cricket is just as popular as watching it. If you are someone who is interested in cricket betting, you should learn about its basics and get tips on placing good bets.
When it comes to online betting, Bet365 is one of the biggest and most popular betting sites. It has millions of players from all over the world on the website and has been operating for a little over two decades. Bet365 is great for cricket betting and bet365 free cricket betting tips are one of the best. Bet365 is especially good for cricket betting and horse racing betting and also provides free live streaming for bettors. Having 45 million customers worldwide and operations in 148 countries, Bet365 really is a global bookmaker.
Cricket betting on Bet365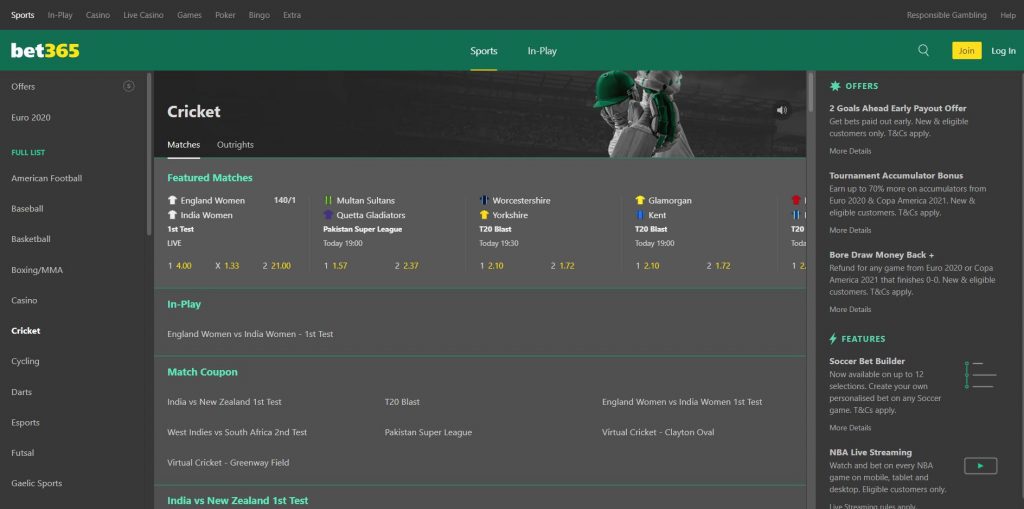 Bet365 is great for those who are new to online betting and also those who are experienced players. There is something for everyone on this platform. It also gives awesome bonuses and promotions for cricket bettors. If cricket betting is your thing, then you are surely going to enjoy the odds offered on Bet365. You can find all kinds of cricket tournaments on the website to bet on, be it IPL, T20 World Cup, Big Bash, Test matches, or any other leagues. Bet365's platform is especially good for IPL betting as it gives complete access to all IPL matches to bet on, with plenty of options. You can place bets on outright wins, top batsman, most run-outs, highest individual score, and lots more.
Features of Bet365
Wide variety of betting options
Interactive live betting platform
Free live streaming
Easy deposit and withdrawal options
The only drawback of Bet365 would be that the welcome bonuses could be better. But since it is a big brand, it doesn't need huge bonuses to attract players to the platform.
Diversity in Bet365
Bet365 has more than 40 different sports from all over the world on which players can bet. Bettors can find popular sports like cricket, football, hockey, esports and also find lesser known sports like darts, ski jumping, etc. The platform has a huge selection of sports and games, making it a very diverse betting platform compared to other bookmakers in the market.
This diversity makes Bet365 a market leader in online betting. Bet365 offers betting options on well-known as well as lesser-known tournaments and leagues. So, the bettor can bet on a major Premier League match between ManU and Chelsea, or bet on the Indian Super League match between Delhi Dynamos and Kerala Blasters, if he wishes to. The number of options that a bettor gets on Bet365 is quite astonishing, so every punter is bound to find something they like.